Best Smart Plugs For Google Home – Indoor, Outdoor & Power Strips
* We may earn a commission for purchases made using our links. Please see our disclaimer here to learn more.
Smart plugs are great for transforming 'dumb' devices into smart devices. You can use them to turn on and off lamps, fans, and dehumidifiers, you can even use them to make your coffee machine smart!
There are tons of smart plugs and smart outlets on the market right now, but in this article, we'll focus on the best smart plugs that work with Google Home and Google Assistant.
Google Home Smart Plugs – Top Recommendations:
If you're in a hurry here is a summary of the best smart plugs for Google Home and Google Assistant (scroll down for more detail:
I love smart plugs! In fact, the very first smart device I bought for my home was a smart plug. The reason I bought it was to control the lights on our Christmas tree.
Like most people, we put our tree in the corner of the living room and it was always a pain to crawl under the tree to turn the lights on and off. Not to mention, it can be quite dangerous if you forget to turn them off!
In retrospect, it was probably one of the best purchases I've ever made. Not because it made my life easier (which it certainly did!), but because it was the gateway to my smart home journey, and without it, you wouldn't be reading this blog right now!
Looking for the best smart Amazon smart plug for Alexa then check out my article here – Best Smart Plugs For Alexa
Best Smart Plugs That Work With Google Home
Unlike Amazon, Google do not have their own Google home smart plug but there are lots of smart plug makers out there that make smart plugs that work really well with Google Home.
There are 4 main brands I recommend you use as a Google Home smart plug. These are Kasa (or Tapo), Wemo, Meross and Wyze.
A lot of people go for cheaper unknown brands, but you may end up having problems with these. Not only with connecting them to Google Home but also with the quality. They are generally just not as good and I've seen plenty of reports of them failing far more than the better-known brands.
Cheaper brands also have a tendancy to be here one day and gone the next. That leaves you with no app, no support, and no service, and your plugs, switches and outlets end up in the garbage as a result.
The best smart plugs are from well known and established brands. The following are the best smart plugs that work with Google Home and Google Assistant based on our testing and customer reviews.
Kasa Smart Plugs – Indoor, Outdoor and Power Strip
Kasa Smart is a leading brand of smart home devices. It's part of the TP-Link group of devices. With over 7 million users worldwide they are a trusted brand and the one I would recommend as the best smart plug to use with Google Home.
Kasa products have garnered praise from PCMag among other sources for their ease of use as well as their smartphone app which allows customers to control home devices and appliances remotely without having to be present!
I have a few of the Kasa smart plugs. Their software is the best, and their hardware is well-made, versatile, and with the backing of TP Link you can be pretty sure they will be around for a long time to come.
NOTE – In the UK it looks like TP Link are replacing the Kasa brand with the Tapo brand, these are pretty much identical in price and features with Kasa.
Kasa Smart Plug Features
All Kasa smart plugs (indoor, outdoor and power strips) have the same features across the range.
Voice Control Support – All Kasa plugs work with both Google Home/ Google Assistant and Amazon Alexa.
The standard Kasa smart plugs don't work natively with Apple Homekit but if you get a Hoobs hub this will allow you to add them to Homekit.
Alternatively Kasa offer a slightly more expensive version of their smart plug that is compatible with both Google Home and Apple Homekit (US only).
Smart Schedules & Auto Off Timers
With Kasa smart schedules you can set your lights and appliances to automatically turn on and off at whatever time suits you. You also have timers and countdown timers.
Timers can be particularly useful for things like small heaters, air purifiers and dehumidifiers where you only want them to run for a few hours at a time. This can also save you money on your electricity bill!
Away Mode – This mode automatically turns connected appliances on and off, such as lamps and other lighting. This is great for when you are out of the house or on vacation to make it appear as if someone is at home.
Group Control – With group control you can combine Kasa smart plugs with other Kasa Smart devices so that you can control all of them with a single tap or schedule. For example when going to bed you can switch off all of your Kasa controlled devices in one go.
Voice control: Kasa smart plugs work with Alexa and Google Home Assistant and reduces the amount of time you spend fumbling with remotes or opening apps by using voice commands to control connected devices. You can control any home electronic appliances that are connected to a Kasa plug with your voice via Google Assistant or Amazon Alexa. Try saying 'Hey Google, turn off the kitchen lights'.
Control from anywhere: The Kasa smart app allows you to remotely control connected devices using your mobile device.
Safety – Kasa smart plugs are UL Certified, meaning they have passed high safety standards to keep your home safe.
Easy setup and use: Although you can use this with Google Home, Kasa also have an impressive app. Just download the Kasa Smart app (Android | iOS), connect your Kasa smart device and follow the simple instructions to start using it.
Energy Monitoring – Some of the Kasa models also have energy monitoring Energy Monitoring & Scheduling so you can monitor energy consumption of your devices and then set timers and schedules to avoid wasted electricity.
Motion Detection – If paired with the Kasa Smart Motion Sensor Switch you can trigger smart plug routines when motion is detected.
Kasa's latest smart plug is the smallest they have ever made. Other plugs tend to cover additional plug outlets, with its smaller size this keeps surrounding outlets free for you use.
This also means it doesnt stick out too far from the outlet, which is useful if you want to put it in an outlet that is behind furniture.
Safety – If you check reviews of some of the no-name brands, you'll soon see several reviews and photos of burnt out smart plugs. Kasa plugs have a flame-retardant shell and nickel-plated phosphor bronze pins. This will help you avoid any potential burn hazards while also making for a more durable connection between device and outlet.
The Kasa Smart Plug Mini is a great way to get started in the world of smart home technology. It is easy to set up and use and has a wide range of features, including voice control, scheduling, and remote access. It is also UL certified for safety and comes with a two-year warranty.
The Kasa smart power strip has 6 smart outlets and 3 USB ports. With 6 individually controllable smart outlets and 3 USB ports, you can control 8 appliances at the same time.
In our house, we use this primarily to charge electronics to make sure we don't overcharge the batteries.
Surge Protection – One of the advantages of using a Kasa power strip over a standard smart plug is that it has surge protection. With Kasa the surge protection is UL-certified which means it's tested to rigorous standards. This ensures that your sensitive electronics and appliances are protected from unexpected power surges.
If you have several devices in one location, the Kasa smart power strip saves you money as it effectively does the same job as 3 smart plugs. With the ability to control multiple devices at once the Kasa smart Wi-Fi power strip is perfect for use in family rooms, home offices, or for small businesses.
The Kasa Smart Outdoor Plug is a great addition to your home if you would like to control various outdoor devices such as landscape lighting, swimming pool pumps, fountains or Christmas lights.
The sunrise/sunset timing will help you better schedule when these devices should be turned on or off, so it's easier than ever before to control all of your outdoor electrical devices.
The Kasa outdoor plug has 2 outlets which can be controlled independently and as you might expect for an outdoor smart plug it also comes with a waterproof cover to protect it from dirt and rain when not being used as well as IP64 weather resistance.
The outdoor plug also has a long Wi-Fi range of up to 300 feet, which is great if you want to remotely control a device that is situated further down the garden.
The Kasa outdoor smart plug is ideal for landscape lighting, swimming pool pumps, holiday lights, or other garden appliances.

If you are looking for the best smart Amazon smart plug for Alexa then check out my article here – Best Smart Plugs For Alexa
The WeMo mini also comes from a well established brand name. Wemo is owned and operated by Belkin. Founded in 1983 in Southern California Belkin products are sold around the world.
In 2012, Belkin launched WeMo to produce smart home solutions that can be synced with Apple Homekit and Google Home.
Similar to the Kasa smart plug, the WeMo Mini has a more compact design than its predecessors, allowing you to stack two Mini Smart Plugs in the same outlet.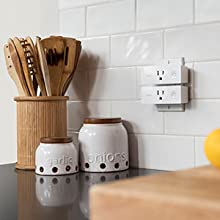 Another similarity to Kasa is the 'Away Mode'. Even when you're not home, "Away Mode" will activate your lights at random intervals to make it appear like you are.
Google, Amazon & Apple Homekit Support – WeMo smart plugs are compatible with Google Home and Google assistant as well as Amazon Alexa and a recent improvement is that WeMo now works natively with Apple Home Kit
.
Voice Control – You can control your lights and appliances with voice commands using Google Assistant, Amazon Echo or Apple homepod.
Wemo is a very popular brand in the smart home market with thousands of 5 star reviews on Amazon and elsewhere.
Meross are another established brand. They were founded in 2016 by a collection of industry experts from companies like Microsoft, Cisco, MediaTek, and TP-Link.
The Meross smart plug mini is another compact smart plug and can be stacked vertically in the same outlet.
It has many of the same features as the brands we have reviewed above and is fully compatible with Google Home and Apple HomeKit.
You can also control your devices via the smart plug with voice commands to Google assistant, Siri and Amazon Alexa. Simply give voice commands to turn on/off the connected devices.
With built-in scheduling functions you can schedule your devices to automatically turn on and off automatically allowing you to save energy when lights are not needed. Sunset and sunrise settings are also available.
The mini plug is composed of PC flame retardant material and has been tested for safety and quality. It is ETL and FCC certified, allowing it to power home electronics up to 15A.
The Meross outdoor smart plug works amazingly well for outdoor use. You will find this useful for Christmas lighting, landscape lighting or fountains that you'd like to be able to control from your phone.
If you are like me and you don't want to have to go outside in the cold to unplug and plug in Christmas or any other outdoor lighting, then these are worth your consideration.
You can find them on Amazon if you are interested in checking them out.
Wyze Smart Plug
Wyze is a company founded by ex-Amazon employees that offers affordable smart home devices. Their first product, the Wyze Cam was released in 2017 and they have since expanded their products to include smart plugs, lights and cameras.
The Wyze plug works with Google Home and also comes with its own app to allow you to check the status of and control your connected devices from anywhere using your smartphone.
Voice commands are supported with Google Assistant and Amazon Alexa. So when your hands are full or you just don't want to move, you can just tell your smart Assistant to turn things on and off by using your voice.
Like most of the smart plugs Wyze plugs allow you to create custom scheduling in their app. So, for example, if you want to wake up to free coffee you could set your coffee machine to turn on at 6: 00 AM and turn off at 6: 15 AM.
The Wyze grouping function allows you to associate several smart plugs to one room or area so that you can turn all of the plugs on or off at once with one tap or voice command.
Vacation mode is similar to what other smart outlet manufacturers call 'away mode'. This turns your smart plugs on and off at random intervals in order to make it look like someone is at home when you are on holiday.
Wyze smart plugs also come with motion detection actions (called Wyze Sense). This allows you to control your smart plugs based on when something opens or closes for example or when motion is detected in a room.
Wyze plugs are available on Amazon.
Other Popular Smart plugs Worth a Mention
TP Link Smart Plugs – these are a no-frills cheaper version of the Kasa smart plugs.
Ikea Smart Plug – for a furniture shop, Ikea have a surprisingly good range of Smart plugs and light bulbs
Hive Active Smart Plug – This is a UK based smart home provider. They started with just smart heating but have since expanded and are a popular choice in the UK.
Bosch Smart Plug – Bosch are a well known brand, as well as creating great smart kitchen appliances they also do smart plugs, cameras and other smart security devices.
Conclusion
Whether you are trying to link up Google Home with your Christmas tree or get it to turn off the lamps in your living room there is no doubt you can achieve what you want with any of the smart plugs reviewed above.
All of the smart plugs featured in this article have similar features and will work with Google Home. Our top recommendation based on our research and customer feedback is the Kasa range of smart plugs.
I hope you enjoyed the article and if you like the articles on DIY Smart Home Guide, then make sure you subscribe to our Facebook page for updates on the newest articles and smart home technology.
If you are looking for the best smart Amazon smart plug for Alexa then check out my article here – Best Smart Plugs For Alexa