Why Is Google Home Talking By Itself?
* We may earn a commission for purchases made using our links. Please see our disclaimer here to learn more.
Ever woken up to the sound of your Google Home speaker talking in the middle of the night? Yeah, it is kind of a scary experience when Google Assistant activates itself suddenly, in the pin-drop silence of your house! But seriously, if you're wondering 'Why does my Google Home talk randomly?' then read on!
Google Home can talk by itself if it hears phrases it mistakes for the wake words "Ok Google" or "Hey Google". It can pick these up from conversations, TV shows, phones, radios, etc. If the device is talking in the night, it could be a system bug and might be fixed with a reboot or system update. 
Some users have complained that their Google Home (or Google Nest) doesn't necessarily talk but makes a random beep or blink. I know you feel paranoid, but you are not crazy to think that maybe your Google Home device is responding to an intruder's command linked to your wi fi network.
Carry on reading to see the reason for this odd behavior of your Google Home device and how to fix it.
Why Google Home Randomly Talks
IoT smart devices and smart speakers like Google Home are popular nowadays because of its capability of interacting with Google services to answer pretty much any questions you can think of.
Want to know about weather "Hey Google, what will the weather be tomorrow?" or "Ok Google, when is Beyonce's next concert in Florida?". You can also command it to "Play Music" or tell jokes saying "Tell me something funny".
Compared to other smart devices, and smart speakers, it is (in my opinion) the best on the market right now. But it's not perfect!
Want to know how to make your smart speaker portable?
Check out this article that shows you exactly how to do it!

Google Nest devices like the Google Home Mini are always are waiting for the wake word "Ok, Google" or "Hey Google" to startup Google Assistant.
Here are some reasons why Google Home starts talking on its own –
Google Home Speaks by Itself
The main reason Google Home randomly talks by itself is that it has detected wake commands from the environment. Well, not the exact wake commands but something similar to them.  You have to remember that Google Nest and Google Home devices are IoT voice-controlled smart speakers. They are always listening for the wake words as long as they are connected to the Internet.
A research study executed by researchers of Northeastern University and Imperial College London recorded the misactivations of Google Home by a large set of non-wake words from twelve different popular TV series. They made Google Home listen to the sounds in two rounds for 134 rounds.
They found that Google Home mishears phrases that rhyme with "Hey" or "Hi" (for example 'They' or 'I') followed by a strong or hard intonation of "G" or phrases containing the sound "ol".
For example- if you say "Ok to go", the G is a distinct G sound that Google Home can misinterpret as a wake call.
Similarly, "maybe I don't like the cold", or "hey you told" all contain the 'ol' sound and can also be interpreted as wake words.
Here is a sample list of non-wake words that were interpreted as wake words by Google Assistant –
"Cold and told."
"A-P girl,"
"OK, and what,"
"I can work,"
"What kind of,"
"OK, but not,"
"I can spare,"
"Maybe I don't like the cold."
"They're capable of",
"Yeah good weird"
Want to know the Best Smart Plugs for Google Home?
Check out this article where we've done all the research for you!
Google Home Randomly Playing Music
On Google user Support Forums people have also complained that their Google Home device started to play music in the middle of the night. Not a very pleasant experience!
Several other users who own a Google smart speaker on the user forum and Reddit complained of the same problem. Users also complained they fail to find anything that may have triggered this occurrence in the Activity Settings.
Unfortunately there is no official reply, but if this is happening to you, check the Activity Settings to see if you can find what triggered it. Ask yourself the following questions if you are facing Google Home randomly singing problem-
Do you have a Media Alarm?
Have you set up a Routine that plays media files?
Is your Home wi fi Network Connection safe? Do you have an outsider connected to your wi fi network? Perhaps your neighbors?
Google Home Randomly Playing Spotify problem also happens for the same reasons. But, there can also be a system bug causing it so always ensure you update your App to the latest version.
For more in-depth information on how to play music on Google home check out our article here.

If you'd like to learn how to use ceiling speakers with Google Home click here to view this article to get all the details (it's not as difficult as you might think!)
Google Home Randomly Beeps
The main reason Google Home randomly beeps is that it has paired or unpaired with a Bluetooth device- it can be your phone, smart watch, laptop etc.
If you have rules out bluetooth problems there can be some other reasons too. Check out the below.
If there is a low-power related problem.
Firmware update notification sound.
Check alarms
Check reminder notifications
Google Home Activates by Itself
As we have discussed earlier, it is because Google Home has caught wake words or something similar to wake words and activated itself. But if there is no sound in your house, but still you find Google Home activating itself, there is probably some glitch in the firmware. Unplug the device, wait for 1 minute and then plug it in again.
Google Home can also activate itself after automatic updates or syncing.
You can often see this type of random activity by tapping on your profile picture in the top right of the Google Home App and then going to assistant settings> Devices, choosing a device and the tapping on the three dots on the top right of the screen. From there you will see 'My Activity'.
Google Home Randomly Stops Playing Music
There are many reasons for Google Home to stop playing music all of a sudden. Check the list below to find why your device might suddenly stop playing music.
1. Firmware problem
The firmware on your device is not updated. Unplug your device, wait for 1 minute and restart your device. Google Home will automatically look for the new firmware update.
2. Lowered Volume
Check your volume level. Perhaps it is too low for you to hear it. Say "Ok, Google, turn the volume up".
3. Casting/ Streaming Problem
Remember that Google Home is a speaker. It can't play music on its own. We have to cast or stream media apps like Google Play Music, Pandora, or Spotify to play music on Google Home. Check your music App and try re-linking it to you Google speaker.
4. Network or Wi fi Problem
Check your wi fi to see if there is a connection issue to the internet. Also check that your phone and Google Home are connected to the same wi fi network for streaming / casting to work.
For more in-depth information on how to play music on Google home check out our article here.
Adjust Hey Google & Google Assistant Sensitivity Settings
If Google Assistant constantly mistakes other words for wake words, one thing you can try to fix it is to go in to the assistant settings and change the setting to make it less sensitive to the "Hey Google" wake word.
In the Google Home App, tap your profile picture in the top right of the screen and then choose Assistant Settings.
Next tap on 'devices', choose one of your Google devices (for example a Home Mini). You should then see a "Hey Google" sensitivity option. This should be set to default but you can change it on a sliding scale from 'Least sensitive' to 'Most sensitive'.
Repeat the above for any other devices you have connected to the Google Home app.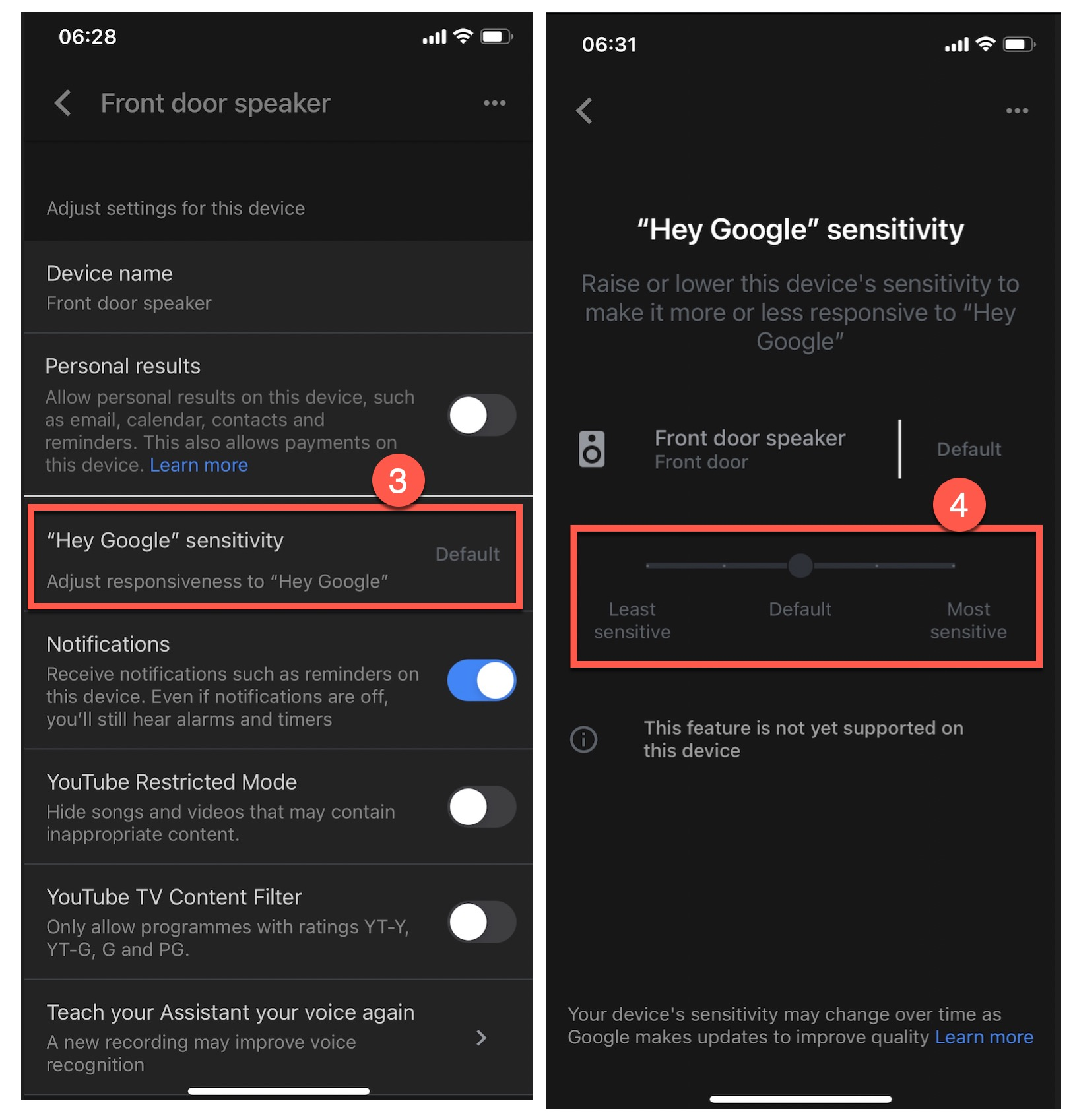 Delete Recorded Conversations from Google Home
Google Home records any conversation you might have with it. If that bothers you then you can easily delete them.
Follow the steps below to delete recorded conversations with Google Home –
Sign in to your Google Account.
Click your Profile Picture.
Go to "Manage your Google Account."
Under "Privacy & personalization", go to "Manage your data & personalization."
Scroll and under "Activity and timeline", click on "My activity".
Go the option, "Google Home" and you will find every activity done on Home.
Click on the hamburger icon beside each activity and you will find two options "Details" and "Delete".
Delete the activity you want to get rid of.
You can also change the settings from here to auto delete recordings after a certain length of time.
Google Home App Privacy Controls
If you are concerned about your privacy you can update your setting from the Google Home and Google Nest App on your Android device or Apple device or on the web by visiting Google Activity Controls from the following link .
https://myactivity.google.com/activitycontrols
Is Google Home Constantly Recording Your Conversation?
Google Home is constantly listening for wake words, for sure. But there is no evidence to support that Google Home is constantly recording your conversation. Google Home devices do wake up frequently by misinterpreting non-wake words as wake words, but the intervals are short before it goes back to listening mode again.
So, no, Google Home is not recording your conversations.
Does Google Home Have Secret Wake Words?
No clear evidence has been found which indicates that any of the misinterpreted non-wake words are malicious. It seems it is just a limitation of the Google Assistant and these are genuine mistakes where it thinks it hears the original wake words- "Ok Google" or "Hey Google".
All the misinterpreted non-wake words are some modifications of the wake word.
It is also possible for someone to use this glitch to their advantage. They can make their own wake words, activate the device, and use it.
Google Home may not have secret wake words but it does have Easter eggs, check out this article to discover every Google Home Easter Egg out there including pop culture references, quotes, movies, music and much much more.
Conclusion
Let's wrap it up on the note that the Google Home smart speaker is a marvel of industry 4.0. It is a revolutionary smart device that enables homes to be more interactive and fun.
Because Google's servers are some of the best in the world, the power of these device is always improving. Even though the voice commands are excellent there are the occasional times where it will misinterpret what you have said.
Bugs and errors are constantly being fixed but for now, you can feel safe in the knowledge that when Google Home starts talking by itself it isn't anything malicious. I hope this has been helpful!